Review: StuffIt Deluxe 2010
As an artist and graphic designer, I've been using file compression software for 10-15 years now. I compress images, data, etc. for my customers and for my own use.
Years ago, I started out using WinZip and then migrated to the opensource software, 7-zip.  After some periodic compression corruption issues with 7-zip, I decided to give StuffIt Deluxe a try.  Initially, I was skeptical about paying good money for StuffIt Deluxe by Smith Micro when I could use 7-zip for free, but I needed something more reliable.
StuffIt Deluxe 2010 (Windows) Review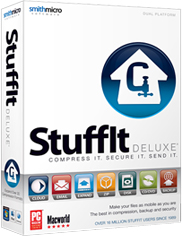 Summary:
StuffIt Deluxe 2010
Smith Micro Software
$49.99 USD (29 Jan 201o)
StuffIt Deluxe 2010 for Windows (or MAC) is file compression software available from Smith-Micro (the OEM) or from retailers across the world.
Got a big file?  Wish it were smaller?  File compression software crunches down the file size so that it takes up less disk space on your computer…and makes it more manageable to email, FTP or otherwise transfer to someone else.
StuffIt Deluxe does all this and more.  StuffIt can create zip files or files in one of 25 other compression formats.  StuffIt Deluxe also includes a membership to StuffIt Connect's secure website where you can share up to 2 GB of files via invitations.  The version I had included a one-year subscription to StuffIt connect (after the expiration, you have to pay to continue using the StuffIt Connect service).
---
List of Features (from the manufacturer):
File Compression and Expansion
• New, Optimized WAV and MP3 compressors
• Photoshop & Micosoft Office plug-ins
• Compress JPEG photos up to 30%
• Browse archives without expanding
• Preview thumbnails of archived images
• Duplicate Folding = smaller archives
• Expand segmented Zip and 7Zip archives
• Patented 24-bit image compression
• Optimized PDF, TIFF, PNG, GIF and BMP compressors
• Create Zip, StuffIt and TAR archives
• Expand files with a single keystroke
• Add, delete, and change files in archives
• Convert to and from Zip and Sitx archives
• Save searches with StuffIt Collections
• Search archives by name, date and more
• Expand encrypted Zip archives
• Expand over 25 compression formats
Send Files

• New StuffIt® Connect stores up to 2GB of files and creates invitations to share them
• New StuffIt® SmartSend automatically chooses the best way to deliver your files
• Built in FTP and email file transfers
• Support for any MAPI email client
File Backup
• Schedule backups from contextual menu
• Uses file metadata to backup files
• Backup directly to FTP
• Burn CD, DVD and Blu-ray Disc™
• Schedule backup at shutdown
File Protection / Security
• Encrypt StuffIt and Zip files with strong 512-bit and AES 256-bit encryption
• Built-in protection against data corruption
Integrate
• Plug-in support for Photoshop CS2-4
• Plug-ins for Microsoft Office 2003 & 2007
• Multi-processor and multi-core enabled
• Create cross-platform compatible archives
---
System Requirements (for the Windows version):
Windows 7, Windows Vista or Windows XP
40 MB of free disk space
256 MB or more of RAM
StuffIt Deluxe is compatible with 64-bit versions of Windows but runs in 32-bit mode.
The StuffIt Plugin for Photoshop is not compatible with 64-bit versions of Windows.
---
Basic Use:
Unzipping rar, zip and other files with StuffIt Deluxe is fast and painless.  There are many ways to do it, but here's my preferred method: Right click on a file and then choose to "extract all to folder named after archive."
To compress a file, you can simply right click on the file and choose your compression method.
Or, you can open the StuffIt software. StuffIt is laid out well with easy-to-understand buttons.  Wizards walk you through everything you need to do to create a file.  Plus, StuffIt lets you schedule compressions for back-up, email files using SmartSend, upload files for sharing with StuffIt Connect and much more.  StuffIt also has plug-ins for Photoshop, Word, Excel, PowerPoint and Outlook.
StuffIt can create quite a few different compressed file formats.  The best compression comes from their proprietary compression format.  If you want to share these files (SITX files) with people who do not have StuffIt, they should download the free StuffIt expander available here.
If you want to view the contents of a zip file or other compressed file, simply open that file in StuffIt and you'll get a list and/or thumbnail preview of the files included. (To view thumbnails, you'll need to choose that option.)
StuffIt's droplet feature makes it easy to execute basic StuffIt tasks, like compress and email, FTP or save file to the desktop.  You can add a droplet icon or icons to your desktop (or wherever) and simply drag and drop files to the icon to complete the task without ever opening StuffIt.  For example, you can drag and drop a file onto a "StuffIt and email" droplet icon on your desktop and then it will compress the file and launch your email program to send the file.
---
Performance Tests
(Notes about the performance tests below: Performance will vary by machine.  This are my personal results; you may achieve different results. For the purposes of these tests, I will only be using StuffIt Deluxe and 7-zip.  I have used the "out of the box" settings.  With additional tweaking, you may be able to achieve even greater compression benefits.)
Performance Test #1:
Original File:  207 Files, 26 Folders, Mix of Image and Text files, 61.3 MB
Using StuffIt Deluxe:
10 seconds – Zip File (Level 6 compression) – 41.750 MB
78 seconds – Sitx File – 39.365 MB
Using 7-Zip:
4 seconds – Zip File using 7-Zip – 41.636 MB
Performance Test #2:
Original File:  1 File; 672 KB; jpg file; 2890 x 1998
Using StuffIt Deluxe:
7 seconds – Zip File (Level 6 compression) – 659 KB
2 seconds – Sitx File – 466 KB
Using 7-zip:
2 seconds – Zip File – 657 KB
Performance Test #3:
Original File: 1 File; 170 KB; Microsoft Word text-only document; 101 pages of text
Using StuffIt Deluxe:
1 seconds – Zip File (Level 6 compression) – 168 KB
3 seconds – Sitx File – 170 KB
Using 7-zip:
2 seconds – Zip File – 168 KB
Performance Test #4: (This one was great for me…)

Original File: 1 File; 223.4 MB; Poser Scene File (Pz3)
Using StuffIt Deluxe:
32 seconds – Zip File (Level 6 compression) – 59 MB
40 seconds – Sitx File – 44 MB
Using 7-zip:
57 seconds – Zip File – 51.5 MB
Performance Test #5:
Original File: 1 File; mp3 – 69.3 MB
Using StuffIt Deluxe:
8 seconds – Zip File (Level 6 compression) – 57.4 MB
31 seconds – Sitx File – 58.4 MB
Using 7-zip:
8 seconds – Zip File – 57.2 MB
Performance Test #6:
Original File: 1 File; Fireworks PNG, Multi-Layered – 28.5 MB
Using StuffIt Deluxe:
5 seconds – Zip File (Level 6 compression) – 28.2 MB
30 seconds – Sitx File – 26.94 MB
Using 7-zip:
5 seconds – Zip File – 28.2 MB
---
SITX files vs. ZIP files:

According to the manufacturer (Smith Micro), here are some features of the StuffIt SITX archive format that aren't available in the Zip format:
Duplicate Folding™ (patent pending) [stores a single copy of duplicate items for faster compression and smaller archives]
Compress all Microsoft Office 2007 Open XML documents
Recompress .zip files for extra savings
Optimized compression for PDF documents
Optimized 24-bit image compression
Optimized compression for MP3 files
512-bit RC4 Encryption
Variable compression ratios to maximize compression or speed.
Greater compression than zip on standard compression tests.
Unicode and two-byte language support to assure broad international support.
FREE Expander "client" for Windows and Macintosh with a large installed base on Mac and Windows. StuffIt Expander is freeware not shareware like many of its competitors.
---
My Impression:
StuffIt Deluxe is

easy to use

. Wizards make it easy for even a computer novice to use the software.
The StuffIt proprietary file format — sitx — provides

better compression

over zip files created by either StuffIt or 7-zip.
StuffIt Deluxe can decompress many different compressed file formats, including zip, tar, rar, sitx, etc.
StuffIt Deluxe creates zip files of similar size to 7-zip in roughly the same time.
StuffIt Deluxe's zip file output was less often corrupted than in 7-zip (my personal experience).
StuffIt Deluxe offers many advanced features, like the ability to schedule file compression for back-up storage.
The best compression (in my tests) were of graphics files, large directories of files and complex files like Poser scenes (pz3's).  WMV's were not worth compressing by any software (and thus not included in the performance tests).  Text files and Word documents were not worth compressing at the size I tested. I was not particularly impressed by StuffIt's mp3 compression and would not buy it for that purpose.
StuffIt Connect lets you share up to 2 GB of files, which is super-handy for artists, 3D content providers and anyone else who needs to share large archives.
---
Pricing:
Current price as of January 29, 2010:  $49.99 USD via Smith Micro's website
---
Overall Grade:
A-
Pros: StuffIt Deluxe is super-easy and fast to use.  I was very satisfied with the additional compression yielded through the sitx file compression.  For my own archives, I'll be using that.  I will continue to distribute art content and graphics file via zip files, but I will be switching to StuffIt Deluxe as well, since I had less corruption errors.  I also will be using StuffIt Connect to transfer large files to friends, family and co-workers.
Cons: I had hoped that standard zip or mp3 files would compress a bit smaller and faster in StuffIt.  7-zip was a bit faster in this area but less reliable.  I also would like to see StuffIt Deluxe sold at a slightly lower price point.
If you're looking for a solid file compression solution, StuffIt Deluxe is a great choice and a good value for the money.
Buy StuffIt Deluxe 2010 For Windows – Windows 7 Compatible